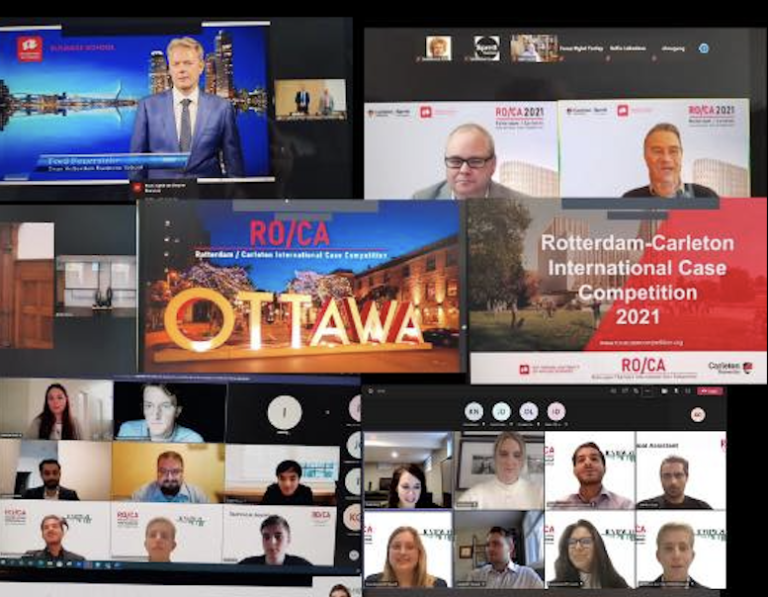 ROCA Online, Version 2.0
Due to COVID-19 travel restrictions, the second edition of ROCA retained the online format of its predecessor and featured 16 teams from across the globe.
The Opening Ceremony took place on Sunday 24 October, 2021.  Matches began on Monday 25 October and continued throughout the week. The medalists for each case were announced during the Closing Ceremony on Saturday 30 October.
Teams were given 6 hours to read each case and prepare their solution and presentation. All teams solved cases in a time slot catered to their own time zones and produced 13-minute presentations that were recorded.  Judges from leading companies across Canada's national capital region viewed these presentations, then led a 12-minute live Q&A session in which teams were asked to defend their solution.  All teams received extensive feedback from the jury regarding their presentation and case solving skills.
BI Norwegian Business School (Norway)
Carleton University, Sprott School of Business (Canada)
Corvinus University (Hungary)
Chinese University of Hong Kong (China, Hong Kong SAR)
Erasmus University, Rotterdam School of Management (Netherlands)
Heilbronn University of Applied Sciences (Germany)
Rotterdam University of Applied Sciences (Netherlands)
Technological University Dublin, College of Business (Ireland)
Thammasat University (Thailand)
Universidad Panamericana (Mexico)
University of Alberta (Canada)
University of Belgrade, Faculty of Organizational Sciences (Serbia)
University of Southern California, Marshall School of Business (USA)
University of Technology, Sydney (Australia)
University of Vermont, Grossman School of Business (USA)
Wilfrid Laurier University (Canada)
Case 1 Winner (Bridgehead): Erasmus University
Case 2 Winner (Air North): Wilfrid Laurier University
Case 3 Winner (Fullscript): University of Technology, Sydney